4 Macrame Articles Design Ideas For Your Home
Posted by Admin on October, 18, 2021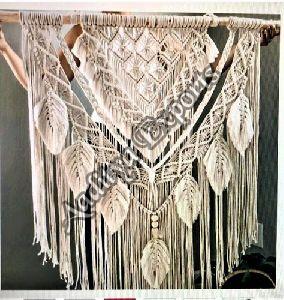 Macrame articles are made by using a knotting technique that has been a part of the textile industry for a long time. In many parts of the world, macramé is still a popular hobby or pastime among ladies. Although, with time Macrame has also gone through creative changes to adapt to modern-day design needs by young crafters.

With the emphasis on handmade and sustainable decor items becoming more pronounced in interior designing, Macrame articles are much in demand for their functionality and aesthetic appeal. If you have not yet jumped on bandwagon of using macramé articles for your home decor then this article will walk you through some macramé decor ideas that are surely made for a refreshing and stunning look to your home this festive season.

Wall Hangings
Tired of hanging the same old art piece or photograph on your home wall, try Macrame wall hanging for a refreshing change. Macrame wall hangings are available in beautiful and calming hues that can brighten a dull-looking wall in your house. It will help create a modern and welcoming decor that you can place in the main areas of your home so that everyone can appreciate this beautiful piece of art.

Cushion Covers
If you prefer a minimalistic design for your home, then adding a Macrame cushion cover can help you create textural interest in your living space. Macrame cushion covers are not only stunning to look at they also add warmth and comfort to your living room. If you want to add colour, Macrame cushion covers are also available in an array of colours for creating visual interest in the space.

Bed Runners
Macrame bed runners give a boho-chic vibe to your bedroom and can help uplift the space in no time. These bed runners help to not only beautify the space but are also functional. Macrame bed runners are also very popular in hotels to provide a welcoming feel to the space for customers.

Macrame Baskets
Every house uses baskets for organizing and storing daily or seasonal items. Macrame baskets are beautiful looking baskets that you can keep anywhere in your house and can store a wide variety of items without much hassle. These are durable and functional, making them a must-own piece for your home. Macrame baskets can also make for a stunning decorative piece for your living room, where you can store magazines or knick-knacks.

The above-discussed Macrame articles are only among the few that you can use to decorate your home. You can find tons of other Macrame items like Macrame chandeliers, Macrame hanging planters, Macrame magazine racks, Macrame hammocks, etc in online and offline stores at economical rates.

Opt for a coveted and reputable Macrame Articles Manufacturer in Jaipur to get a high-quality product at affordable rates. You can also avail good deals and discounts on bulk Macrame Articles for your home. Macrame Articles are trending and are here to stay for a long time for their aesthetic appeal and functionality. Check out the latest Macrame Articles on various online websites to get innovative ideas to include Macrame Articles in your home design.
This entry was posted on October, 18, 2021 at 14 : 15 pm and is filed under Macrame Articles. You can follow any responses to this entry through the RSS 2.0 feed. You can leave a response from your own site.