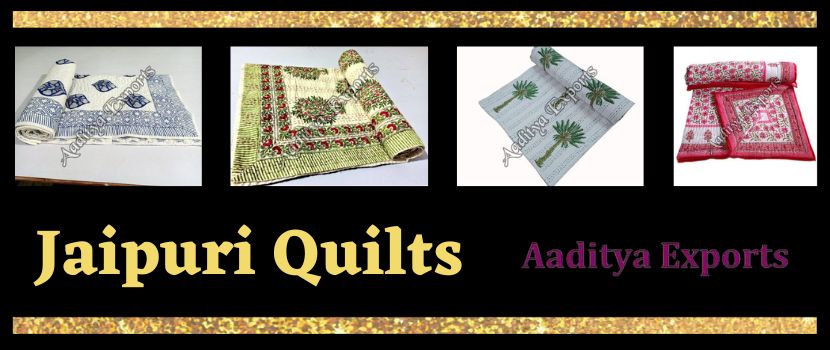 Jaipuri quilts, also known as Rajasthani quilts, are a beloved traditional handicraft of the Indian state of Rajasthan. These beautiful and intricately patterned quilts are renowned for their warmth, durability, and beauty. In this article, we will explore what Jaipuri quilts are, their history, and why they are so special.
What are Jaipuri Quilts?
Jaipuri quilts are handmade quilts made with cotton or silk fabric that feature bold and intricate patterns. The fabric is typically hand-printed using traditional block-printing techniques, which involves using carved wooden blocks dipped in dye to create the patterns. Once the fabric is printed, it is layered with cotton batting and quilted together by hand using traditional stitching techniques. The result is a warm and cosy quilt that doubles as a beautiful piece of art.
History of Jaipuri Quilts
The art of quilting is said to have originated in India around 4000 BC. It was traditionally practised by women in rural areas as a way to recycle old clothes and scraps of fabric. Over time, quilting became an art form in its own right and started to gain recognition for its beauty and utility. Jaipuri quilts, in particular, have their roots in the royal courts of Rajasthan.
During the Mughal era, royalty and nobility had a keen interest in the arts. They commissioned artisans to create beautiful textiles and tapestries for their palaces and courts. One such artisan was the legendary Jaipuri quilt maker, Maharaja Sawai Jai Singh II, who was a patron of the arts and an expert in the art of quilting. His legacy is still evident in the fine craftsmanship and intricate patterns of the Jaipuri quilts made today.
Why are Jaipuri Quilts so Special?
Jaipuri quilts are special for several reasons. Firstly, they are made by skilled artisans who have a deep-rooted knowledge of traditional quilting techniques. The entire process of making a Jaipuri quilt is done by hand, from the printing of the fabric to the final stitch.
Secondly, the Jaipuri Quilt Manufacturers in Jaipur offer a wide range of patterns and colors. From the traditional paisley and floral designs to more modern geometric patterns, there is a Jaipuri quilt to suit everyone's taste. The patterns are created using traditional block-printing techniques, which means that no two quilts are exactly the same.
Thirdly, these are incredibly warm and cozy. They are made with natural materials, such as cotton and silk, and are lined with cotton batting. This makes them perfect for chilly nights and early mornings.
Finally, Jaipuri quilts are a timeless piece of art that can be passed down from generation to generation. They are not only functional but also double as beautiful pieces of art that can be used as wall hangings or bedspreads.
Conclusion
Jaipuri quilt manufacturers in Jaipur offer a beautiful and timeless part of India's rich textile art tradition. The intricate patterns and bold colors of these quilts are a testament to the skill and dedication of the artisans who make them. Whether you're looking for a cosy and warm bedspread or a unique piece of art to hang on your wall, a Jaipuri quilt is sure to be a treasured addition to your home.
We are the leading Jaipuri Quilts Manufacturer in Jaipur. Our Jaipuri quilts are available in a wide variety of designs, patterns, colours for eye-catching design and appeal. Our Jaipuri quilt collection includes Jaipuri cotton quilts, Jaipuri satin quilts, Jaipuri hand block print, Jaipuri floral quilt, etc at cost-effective rates.