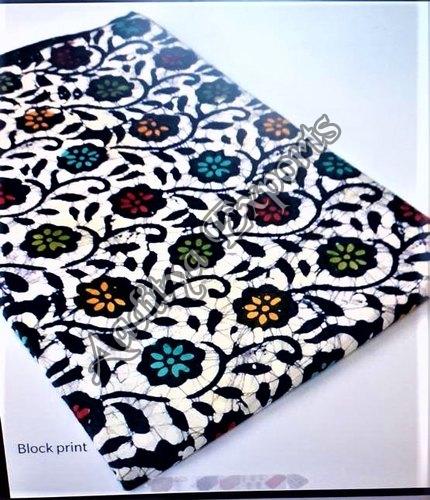 Every industry is seeing higher trends in company acquisition as a result of the growing globalisation and digital era. However, because the Jaipuria cotton hand block print fabric industry is only an art form with limited economic viability, the value addition aspect must be viewed as the flip side of the same coin.
What is Jaipuria Cotton Hand Block Printing?
Japuria cotton hand block printing on fabrics is an ancient skill that is still practised in many parts of India, particularly in Rajasthan. With the passage of time and the movement of artisans, every section of Rajasthan has developed its distinct character.
Hand block printing is a kind of art in which wooden or metal blocks are carved with specific designs by hand using only the most basic hand tools, preserving the softness of the wood. The design is traced over the plain wood blocks, and then the design is carved.
With time, the skill of wooden hand block printing has evolved into a potent tool for boosting the fabric and textile manufacturing sectors under the banner of Value Added Components.
History to Hand Block Printing:
Hand block printing on textiles has been practised in India for hundreds of years. It was always a favourite of the royals, and it thrived under their guidance. Andhra Pradesh and Gujarat were the first documented sites of hand block printing. During Sawai Jai Singh's reign in Rajasthan in the 18th century, the skill flourished. It began in Sanganer because a nearby river provided a continual stream of water for the artists to wash and colour their wares.
Many hand block print artisans from Gujarat and Andhra Pradesh were invited to open workshops in freshly developed Sanganer by the foresighted Jai Singh, and thus began the development of a significant art centre in Rajasthan. He had no idea at the time that his plan would go on to prosper beyond his wildest hopes, and that he would end up providing a source of income for hundreds of families for generations for Japiruia Hand Block Printing Fabric.
Hand Block Printing and the Chhipa Community:
The Chhipa community in India is home to hand-block print craftspeople. Because they have been practising this trade for generations, the subtleties of the procedure have been passed down from generation to generation. Every member of the Chhipa community participates in cloth washing, dyeing, and printing.
There is also a multitude of people who are involved in a variety of different crafts that help the hand block printing process indirectly. Wooden block makers, dyers, tailors, raw material suppliers, dealers, and so on are among them. The hand block printing technique is extremely reliant on the availability of water at all times.
Popular Designs:
The beauty of the themes is what renders the Jaipuria cotton hand block print fabric so attractive. Sanganeri themes are usually printed on white or cream cotton material and are influenced by nature. Flowers are popular, but other patterns include plants, fruits, animals, human figures, and geometrical patterns.
In a Sanganer or Jaipuria cotton hand block print fabric, multiple motifs are employed, and the end product may have distinct patterns on the base, border, and body. Sunflowers, narcissuses, roses, rosettes, lotuses, lotus bud, lily, plumeria, canna, daffodils, marigold, hibiscus, and chrysanthemum are used to create floral motifs. Bananas, dates, grapes, and pomegranates are all common fruits. Daggers and other weapons are also utilised as motifs in several traditional prints.
The prints accentuate your sense of style and combine traditional with the in-vogue patterns of popular art designs that you love on your clothes. Wearing Jaipuria cotton hand block print fabric brings a sense of pride in your tradition and brings recognition to the skilled craftsmen who put their heart into the art of Jaipuria cotton hand block print fabric.