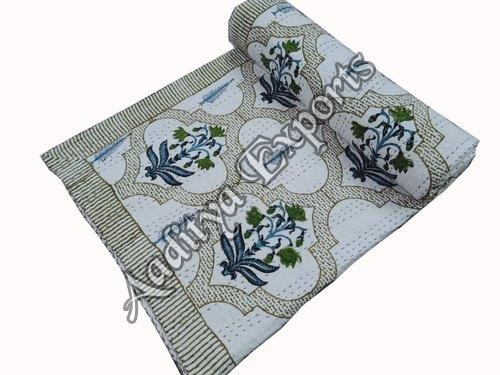 Many kinds of quilts can be found in different parts of India. But except for the famous Jaipuri Kantha Quilt, very few of these handmade quilts are probable to survive for long. From the rural areas of Jaipur comes the godadi quilt. This quilt uses old, torn, faded pieces of cloth from garments like a dhoti, sari, ogham, dupatta, and ghagra. Such quilts are also common in the drier parts of India.
Exclusive qualities of the Jaipuri Kantha Quilt
The warmth from the manifold layers of the fabric, made extra soft with use, can simply outshine expensive woollen blankets. Likewise, thinner Kantha Quilts are used for newborn babies. Kantha Quilt is extremely warm and soft. This quilting material has an inner lining of cotton, which is filled at regular intervals between the parallel strips of weft cloth. In Assam, very thinly sliced bamboo shavings are sometimes used in place of cotton.
Verities of the Jaipuri Kantha Quilt supplied by the Jaipuri Kantha Quilt Exporter
Only in the case of the famous Kantha Quilt, the market seems to flourish. Incredibly soft, light and warm, this quilt's beginnings are unidentified. There are three variabilities of Jaipuri quilts in the market, namely cotton, velvet and silk. Quilting is the sole purview of women and three or four standard designs have been in trend for as long as anyone can remember.
Different uses of the Kantha Quilt
TABLECLOTH
Bring that flawless vibe to a calm balmy-night summer tea party! Since there is so much detail in the vintage print of a Kantha throw, using it as a tablecloth can carry this detail forward and in the spotlight! Using a light-medium Kantha throw will work best for tabletops, letting the corners flow pleasantly off the table.
CURTAINS OR ROOM DIVIDER
Just adding curtain clips along any edge of a Kantha quilt can promptly turn it into a perfectly colourful curtain or room divider – with a hippie Indian tapestry vibe.
CAR SEAT COVER / COUCH SOFA THROW
Keep a Kantha in your car for additional warmth as a blanket, a picnic rug or even to bring personality and colour into your car/sofa. Cover the back seat with a bright colourful Kantha, lob a Kantha on the front seat and drive!
CAPE / WRAP
Icy night? A little too breezy? Swap your jacket for rather a little more fun – a Kantha around your shoulders will give much warmth due to the protection created by the numerous cotton layers – it's a poncho-like, cape-y, wearable blanket sort of contract. Plus, vintage traditional textiles are all the rage.
BABY PLAYMAT OR WRAP AS KANTHA SCARVES
Babies love colour! Select a bright Kantha with different prints and patches and you've got yourself a baby-approved playmate that you can lie on your living room floor definite to keep your bubs occupied while you catch up on that midday soapie.
RUG OR USE IT AS ACCENT PIECES.
The thicker, Jaipuri denser Kantha quilts can be used as rugs! Seamless for the teepee or glamping experience, they are a great option for covering the complete tent floor – easy, fun and pleasant to sit or lie on – pile up some cushions and chill!