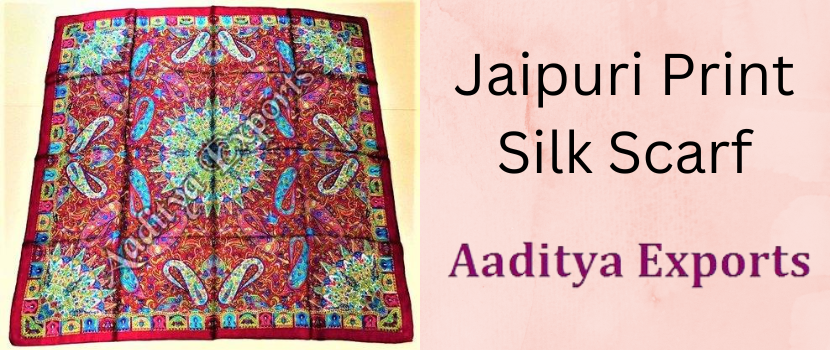 A scarf is a piece of fabric that is worn around the neck or head. A scarf is helpful for sun protection, fashion, cleanliness, and religious purposes. Wool, cotton, linen, and silk are common materials for making scraf. It is a common form of neckwear. In any cold climate, a thick scarf is handy.
You can wear a woollen or silk scarf with a coat or jacket. But many people wear silk scarves for religious purposes.
The Significance of Silk
Silk yarns are obtained from many species of moths that are produced from mulberry worms. It is one of the finest raw materials. The thread is coated with a sticky layer that is chemically treated before weaving into fabric.
The quality of yarns depends on the form of a silk moth. Pure silk is woven after treating the yarns chemically, which removes all sticky protein layers. Raw silk is woven from untreated yarns that contain sericin.
Yarns are quite uneven; it gives the fabric a slightly coarse or smooth texture. Raw silk helps make scarves, gowns, and palazzo suits. Pure silk scarf manufacturers in Jaipur use pure silk to make a scarf.
Benefits of Wearing a Silk Scarf
The significant benefits of wearing a silk scarf are as follows -
1. A silk scarf is excellent for your hair. Wearing a silk scarf can keep your hair soft. A silk scarf will keep your hair quiet if you have heavily textured curly hair. A silk scarf can keep your hairstyle intact during the daytime.
2. Silk is more delicate on the skin than rough cotton. This is because the friction from cotton can irritate your skin. On the other hand, silk will retain the natural moisture of your skin.
3. Silk has a natural resistance to dust mites, mould, and fungus. Thus it is beneficial.
4. Silk is very lightweight, and it is suitable for regulating temperature. Light, breathable, and airy silk is a much better material than cotton.
5. A silk scarf can give a luxurious effect. A pure silk scarf is comfortable because it is soft and good for your health.
Process of Choosing the Right Scarf
It would help if you considered the following factors while choosing the right scarf-
1. A bright printed silk scarf can match flawlessly with any outfit. Moreover, you can wear a boldly patterned scarf with a compliment to each other.
2. Scrap fabric and texture has different colour and print. Therefore, if the scarf has various material qualities, it is helpful for multiple uses.
3. Silk scarfs, with their soft sheen and alluring drape, add a touch of elegance to any outfit. It is helpful in a wide variety of climates. A silk scarf can give a classic look.
4. You can wear a scarf as a tie. You can style the scarf with different shapes. A scarf is durable and gives unique fashion tips.
5. You should select the scarf size and pattern per the shape of your head, hairstyle, and neck. Then, a scarf can match flawlessly with any outfit.
Try to choose the right designer scarf that fits perfectly with your dress. You can buy scraf from a pure silk scarf manufacturer in Jaipur.